ABOUT OUTDOOR LIVING MAGAZINE!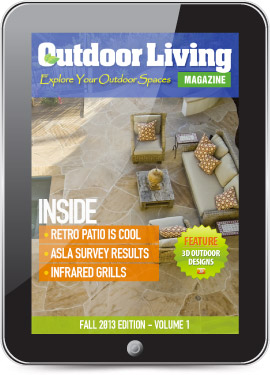 Launching Outdoor Living Magazine has been a very exciting undertaking and we are thrilled to provide our free digital/mobile magazine to homeowners, designers and industry professionals alike.
We set out to create a magazine that would engage and inspire homeowners in their endeavor to create affordable, yet stunning outdoor living spaces. What you will find in the pages of Outdoor Living Magazine is a collection of inspired and instructive articles written by real, down-to-earth people who are not afraid to admit the struggles we sometimes face in our back yards.
Outdoor Living Magazine is a guide to the latest news, products, trends, industry practices and technical information all in one publication. With a detailed emphasis on every aspect of creating, maintaining and enhancing the outdoor living experience—from landscaping and hardscaping, water features, to outdoor kitchens and furniture, we explore the latest innovations and products for solutions to living well in your outdoor spaces.
We are honored to share the work of so many committed and thoughtful people who have worked tirelessly to bring together this dynamic, informative magazine. Feel free to share your thoughts or ask our experts any questions you may have.
We appreciate your support and we are honored to have you as a reader of Outdoor Living Magazine.
Warm regards,
Judy Walker
Managing Editor
About Outdoor Living Planet Outdoor Living Planet is your premier resource for all your outdoor living needs online. Our web site is jam packed with the latest industry News, Articles, Photos, Videos, with access to product information and industry professionals across the USA. We provide everything you need to make your outdoor living project a major success!

Visit Outdoor Living Planet website »
STAY CONNECTED!
Get the Latest News and Events from OLM delivered directly to your email inbox via our OLM eNewsletter.
We promise you'll love our content!